​
"THE TOWNHOUSE GALLERY" is one of 3 townhouses within the
complex of PUMULA WOODS in Umzumbe.
​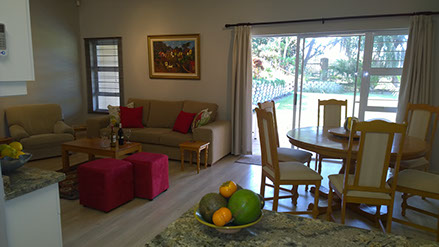 This compact house has a comfortable, open-plan living and TV viewing area on the
ground floor with patio space leading onto rolling lawns and gardens
​
A fully equipped kitchen and extra storage space under the staircase
​
A downstairs bathroom with shower, and a bedroom with 2 single beds
completes the ground level.
​
On the second level of this townhouse, the main bedroom with a queen sized bed
shares a full bathroom
​
With the "Open" bedroom, made private from the reading and relaxation side,
using room dividers. Sliding doors access the ample patio with views of the garden
and glimpses of the ocean.
​
Two single beds in the "open" bedroom with cupboards and dressing table.
​
The GALLERY TOWNHOUSE is within the sectional title complex of PUMULA WOODS
at 48 Station Road. There is one lock-up garage and ample parking for a second and third car.
A communal swimming pool is available for guests to make use of, and a short 5 minute
walk to main beach completes the picture
For more information and rates, contact:
TRISH WOOD
039 6846381
083 6582053

P.O.Box 22 Umzumbe 4225
Tel/Fax: 0396846381